Happy New Year's Eve Eve, guys! Here's our 10 Things list for December - hopefully you've managed to tick them all off by now!
1. Go Carolling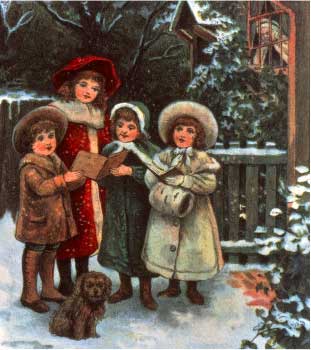 http://www.littleshamrocks.com/images/christmas-carol-singing.jpg
Whether you go out singing yourself, or simply let others serenade you with a selection of festive songs, there is nothing like a bit of Christmas carolling to get you into the holiday spirit.
2. Go Ice Skating
http://magazine.motilo.com/wear-ice-skating-edit/
Whether you're a skating pro or have two left feet, you're still bound to have an icy good time zipping/stumbling around on the rink! (Even if half the fun is the prospect of
a
près
-skate hot chocolate :-).
3. Do Something Charitable
http://www.frontlines.tv/wp-content/uploads/2012/12/16acnz8.jpg
Purchasing a present for Santas Anonymous, helping out at a soup kitchen, filling a shoebox for Operation Christmas Child...there are countless ways of spreading the love this time of year.
4. Make a Gingerbread House
http://www.photos.ultimategingerbread.com/2012/08/beautiful-gingerbread-house-by-debbie.html
Or, you know, a gingerbread mansion, as this well-coiffed lady has done.
5. Indulge in Food
http://www.onebodymindspiritlove.com/wpcontent/uploads/2012/12/ChristmasDinner_iStock_DNY59_600x338.jpg
It's pretty much the law that you're not supposed to count calories in December (that's what January is for!), so indulge in all the mouth-watering culinary delights the season has to offer.
6. See the Lights
http://s2.favim.com/orig/35/beautiful-christmas-house-lights-places-Favim.com-282446.jpg
Probably one of the most entertaining (and free!) things you can do this month is drive around town looking at lights. Every neighbourhood has its resident Griswold family, so you're sure to see some fabulous displays!
7. Observe the Spiritual Aspect of Christmas
Even if you're not a Christian, you can still respect the religious origins of Christmas by watching a school Nativity play or checking out a church's display.
8. Watch Christmas Movies
http://www.examiner.com/article/my-top-5-christmas-movies
'Tis the season to curl up on your couch and watch cosy, corny, Christmas movies!
9. Hit Up the Sales
http://www.life123.com/beauty/style/shopping-tips/find-the-best-clothing-sales-year-round-2.shtml
Brave the crowds and snag some super deals on Boxing Day.
10. Ring In the New Year
http://www.horizonsclub.com/wp-content/uploads/2012/12/NY3.jpg
Whether you plan on ringing in 2013 in the midst of Times Square or from the comfort of your living room, we hope you have the happiest of New Years! :-)