Can you believe
that this is our last ever monthly 10 Things list?! Where has the past year gone! (If you're interested, you can revisit our first 10 Things list--for August--here). We'll miss creating these monthly suggestions of things to do, but we have plenty of other "10" lists in the works, so stay tuned!
1. Celebrate Canada Day
http://www.canada-day.ca
Kick off the month of July by celebrating all things Canadian on the first. Even if you don't have the same ties to the country that we do, you can still use it as an excuse to indulge in a stack of maple syrup-drenched pancakes, read some Margaret Atwood, or listen to an exclusively Canadian playlist on your iPod.
2. Celebrate the Fourth of July
http://bostinno.streetwise.co/2012/07/02/where-to-watch-fireworks-in-massachusetts-this-4th-of-july/
Happy Fourth of July, Americans! No doubt you'll go all out on your special day, but those of us who don't live in the Land of the Free can still take advantage of the festivities by watching all the fabulously elaborate concerts on TV.
3. Celebrate Bastille Day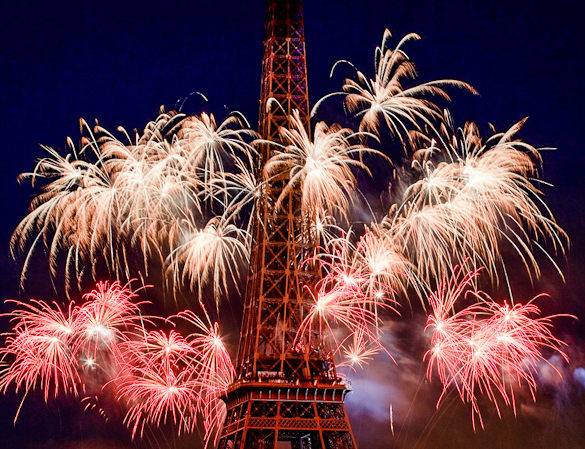 http://www.stoffersgroup.com/vive-la-france-how-to-celebrate-bastille-day/bastille-day-fireworks/
The 14th of July is Bastille Day--France's day for patriotic pride. While it may not be your home country, it's the perfect excuse for indulging in some Gallic delights, whether that be a dainty serving of macarons, or a fresh-out-of-the-oven baguette.
4. Partake in a Poolside Party
http://www.destination360.com/north-america/us/nevada/las-vegas/vegas-pool-party
Cool down from the hot temperatures in the most refreshing way possible--that is, poolside, and preferably with an icy cold drink in hand.
5. Hail Down an Ice Cream Van
http://www.flickr.com/photos/lomokev/7034881665/
Indulge your inner child and satisfy a sweet tooth by answering the siren call of the ice cream van next time you hear one doing the rounds in your neighbourhood.
6. Go to a Farmers Market
http://www.artpictures.co.uk/gifp0959.htm
There is something so wholesome and summery about farmers markets--and you're bound to find one somewhere in your vicinity during these warmer months.
7. Go on a Road Trip
http://kassyaugustine.tumblr.com
Whether it's a grand All-American monthlong affair, or an afternoon drive to a little town an hour away from where you live, there's nothing like hitting the road to get away from it all.
8. Watch the Tennis at Wimbledon
http://www.theuksportsnetwork.com/the-digital-side-of-wimbledon-2013-who-is-doing-what
Did you watch the showdown between Andy Murray and Novak Djokovic on the 7th of July? Nailbiting stuff, right?! We never realised watching tennis could be so edge-of-your-seat!
9. Go Camping
http://www.henandhammock.co.uk/helpingtheenvironment/index.aspx?id=2722
Well, first off, a disclaimer: we're not really camping girls ourselves, to be honest. But if it's your thing, then go all out and enjoy some time in the wilderness!
10. Make a Summer Playlist
http://www.bcliving.ca/entertainment/granville-onlines-ultimate-summer-playlist
A playlist of summery songs is the perfect accompaniment to all your warm-weather fun--from listening to at the beach on your iPod to playing at a party for all to enjoy. And, when you're feeling a bit down in the depths of winter, listening to those songs will bring back a flood of happy, summertime memories.