Sorry

for the radio silence, guys! We've had a not-quite-completed 10 Things November post just chilling in drafts for the longest time...and even though there is roughly an hour left of the month, it's still better late than never, right?!
1. Vote (Either Actually or Vicariously)
No, we're not American, but we still find Election Day exciting!
2. Observe Remembrance Day
Wear your poppy with pride in the weeks leading up to this poignant holiday, and take a moment to remember those brave people who fought in the war.
3. Celebrate (American) Thanksgiving
Happy Thanksgiving, American readers! We hope you enjoyed a day filled with turkey, love, and giving thanks.
4. Celebrate Bonfire Night
Remember, remember the 5th of November! Happy Guy Fawkes Day/Bonfire Night, English readers!
5. Indulge in a Christmas Beverage at Starbucks
Gingerbread/eggnog/caramel b
rûlé
lattes, peppermint mochas...heck, even Christmas Blend coffee...Starbucks Holiday Drinks are back in town and we couldn't be happier!
6. Listen to Christmas Music
It's a very special moment when you hear the first Christmas song of the season on the radio...it fills you with a happy, joyful feeling you should savour because within a month you will be guaranteed to Never. Want. To. Hear. Another. Christmas. Song. Again.
7. Partake in Black Friday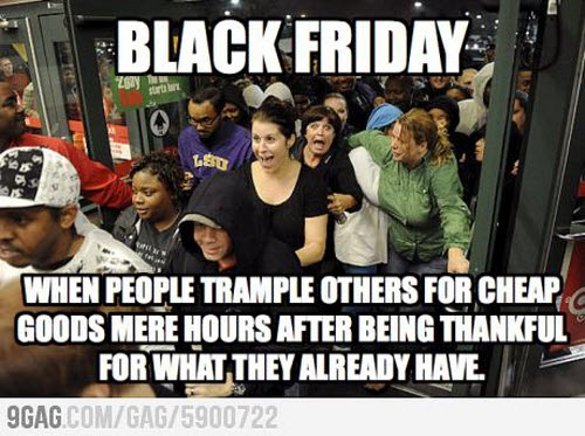 Score some super deals at all your favourite stores with this annual shopping extravaganza/mall brawl.
8. Send Off Your Christmas Cards
If you send out Christmas cards, do it sooner rather than later - not only does it take the stress off you to have it done but it's nice for the receiver to have your card up on the mantel-piece/wherever for as long as possible.
9. Deck the Halls
Sure, you could wait til December to put your Christmas tree and lights up, but the more mileage you get out of your decs the better, right?!
10. Get a Head-Start On Your Christmas Shopping
Shopping for other people can be stressful at the best of times - beat the mid-December crowds and lessen the stress by getting it done as soon as you can.
Images:
http://www.mnn.com/your-home/at-home/blogs/donkey-vs-elephant-partisan-home-decor
http://www.6harrow.org/2010/11/remembrance-sunday-parade/poppy-field-before-the-storm-floriana-barbu/
http://itthing.com/history-of-thanksgiving
http://www.lonelyplanet.com/england/travel-tips-and-articles/76144
http://fashionistarchitect.blogspot.ca/2011/11/i-love-starbucks-christmas-drinks.html
http://idlermag.com/2011/12/09/the-war-against-christmas-music-part-2/
http://www.searchenginejournal.com/black-friday-whack-o-alert/52645/
http://butlergirl.com/press/2012/11/13/6-proper-etiquette-tips-when-sending-christmas-cards/
http://titus8.com/2011/11/01/indoor-christmas-decorations-for-living-room/christmas-living-room-design-christmas-tree/
http://blog.ebags.com/holiday-center/online-holiday-shopping-tips/